Blog
« Horseshoe Door at Loveland Feed & Grain Mill | Main | Ranch-Way Feeds at Loveland Feed & Grain Mill »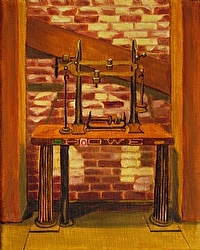 Howe Scale at Loveland Feed & Grain Mill (c) Ruth Soller
This Howe gooseneck benchtop scale inside Loveland Feed & Grain Mill is more rare than the Fairbanks Scale in my previous painting. Notice the green and the red and white state inspection stickers on the edge of the scale, evidence that the scale had been certified accurate. The 1891 Loveland Feed & Grain Mill in Colorado ceased operations in 2003. Below is a brief history of the Howe Scale Company.
It all started in 1855 at the Sampson Scale Company of Vergennes, Vermont. Employees Frank Strong and Thomas Ross developed and patented a new scale innovation that utilized ball bearings for the first time. This revolutionary design concept assured accuracy in weight measurement that had not previously been possible.
In 1857 John Howe Jr of Brandon, Vermont was operating a foundry in Brandon and was approached by Strong and Ross to manufacture their scales at the Brandon foundry. He agreed and the three entered into a partnership calling their new company The Howe Scale Company. In 1864 Howe bought out his partners, including those early patents, and continued operations on his own. Howe scales became well known and respected and at the 1867 Paris Exhibition it beat worldwide competition by winning all the medals (gold, silver and bronze) in the scale category.

In 1869 Nathan T. Sprague, Jr. of Brandon bought out the company, continued the manufacturing operations and the new company was named The Brandon Manufacturing Company. Since the name Howe was by then very well known and respected, Sprague continued to use it on the scales. One of Sprague's investors was John Boardman Page of Rutland, who also happened to be a director in the Rutland and Burlington Railroad. Then by 1877 Page had increased his investment in the company so as to have controlling interest and the company was moved to Rutland and renamed The Howe Scale Company.

The Howe Scale Company made scales in Rutland for 105 years and quickly grew to the area's largest industrial employer and it's most important corporate tax payer. It quit operations in 1982 and today Howe scales are still in use throughout the world.



Topics:
nostalgia
|
Colorado
|
farm scene
|
Loveland Feed & Grain Mill
|
oil painting
|
Howe antique scale
---
---
Related Posts:
---
Comments