Blog
« The Graduate Feature Article | Main | Tulips in Snow »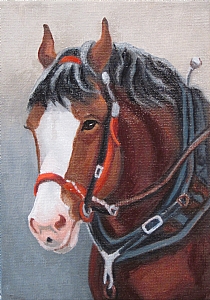 Last summer I became interested in painting draft horses after seeing a pair of Belgian Draft horses pulling a hay mower, then a pair of Suffolk Punch draft horses hitched to a dump rake. The draft horse breeds are huge but usually gentle. Clydesdales were used in the medieval days by knights in shining armor, because of their strength to carry a muscular man plus over a hundred pounds of armor. Clydesdales were bred in Scotland for farming and were brought to America by Scottish Canadians. Because the 2000 pound Clydesdale could pull twice his weight at five miles per hour for a full day, they were ideal for pulling heavy delivery carts for milk or beer merchants.
I visited the Budweiser Clydesdale Hamlet at the Fort Collins Anheuser-Busch Brewery and was charmed by their majestic beauty. My painting is based on one of a pair of Clydesdales during training; so he is not decked out in braids and flowers as he would be for a hitch with the full team of eight pulling the official wagon. You may visit the Clydesdales for a photo opportunity the first Saturday of each month from 1 pm- 3pm, weather permitting.
The Budweiser Clydesdales are a group of Clydesdale horses used for promotions and commercials by the Anheuser-Busch Brewing Company. To be selected as a Budweiser Clydesdale, a horse must be at least three years old, be gelded, stand about 6-feet at the shoulder, be reddish-brown in color, have white stockings on all four legs, a blaze of white on the face and a black mane and tail. About 25 to 30 foals are born at the company's breeding farms each year, but not all make it onto a beer wagon team.
Budweiser Clydesdales have been wearing red and white braided manes adorned with flowers since the first hitch appeared shortly after the repeal of Prohibition in 1933. Legend has it that August A. Busch Jr. wanted to present a hitch of the mighty horses to his father to commemorate the first bottle of post-Prohibition beer brewed in St. Louis. Busch invited his surprised father to step outside to see his new "vehicle," and there was the Clydesdale hitch pulling a red, white and gold beer wagon.
BUDWEISER CLYDESDALE HAMLET
2351 Busch Drive, Fort Collins, Colorado 970.490.4691
COST: FREE


Topics:
Anheuser-Busch
|
Budweiser Clydesdale
|
Colorado
|
draft horse
|
farm scene
|
oil painting
|
Fort Collins
---
---
Related Posts:
---
Comments