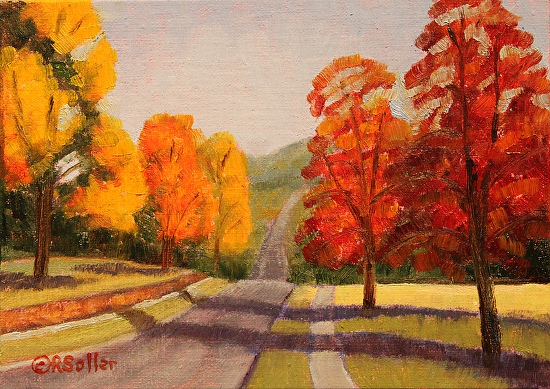 I invite you to visit Fayetteville, Arkansas, in the third week of October. If you have not enjoyed the privilege (as I did) of growing up in this idyllic college town, home to the University of Arkansas, you will be amazed at the beauty of the autumn color of the turning leaves of the maple trees. Can you keep my secret? Last fall Steve and I traveled to New England to experience the famous fall foliage tour and we saw some lovely sights. However, none of the sights we saw in Massachusetts, Maine, New Hampshire, and Vermont exceeded the color of the Ozarks in October!
Make sure to drive, bicycle, or walk east of College Avenue (Highway 71) along East Dickson Street, Mission Blvd., and Maple Street. Observe century-old mansions while feasting your eyes on the most gorgeous maple trees ever. Take the loop around Mt. Sequoia where you may visit the United Methodist Church Assembly and stop at the cross for an overlook of the downtown and the campus. Visit the University of Arkansas campus, especially the walkways around the preserved historic Old Main for more stunning town views. My most recent painting Ozarks October, E. Dickson St., created for a childhood friend, is one small example of the sights you may see.
Describe your favorite autumn location or scene? If you would enjoy owning an oil painting of your favorite scene, please contact me to discuss details you desire. I would love to make your dream painting a reality.