Western Landscape and Portrait Paintings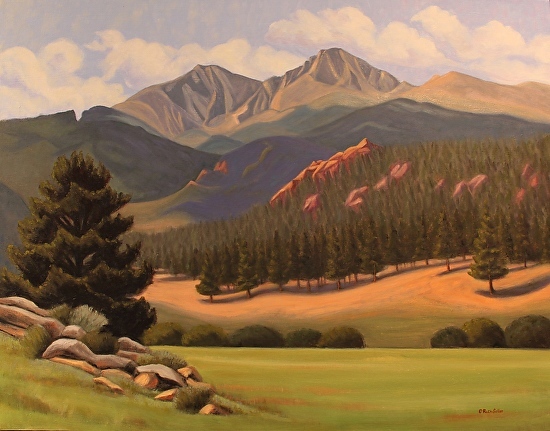 Longs Peak from McGregor Ranch, oil, 22x28
 Ruth Soller is a Denver oil painter of western landscapes, architecture and portraits. Ruth Soller helps clients by creating original oil paintings for their homes or offices.
* Ruth Soller offers for sale a complete inventory of Western landscapes, Southwest scenes, Italy scenes, historic architecture, nostalgic farm scenes, florals, and holiday and religious images. Shop for the perfect gift for nature lovers.
* Enjoy my artwork by clicking on Paintings and then selecting one of the Portfolios. Click on the image for a larger view. Click the Buy Now button to purchase a painting. 
* Ruth Soller paints commissioned oil portraits of men, women, teens, children, pets, homes or businesses. Commission Price List is on my Bio page. Contact me to discuss details of your desired project.
* Sign up for my free monthly e-newsletter updates of new works and show schedules on my Newsletter page.
* Visit my Blog page to learn about my inspiration and process of painting an oil portrait or western landscape. 
All images and stories © Ruth Soller. All U.S. and International copyrights reserved by Ruth Soller. Reproduction, copying or storing images in any form is strictly prohibited without prior written permission from Ruth Soller. All Rights reserved. By browsing this website you are agreeing with the copyright terms above. 
 .
FAQ's- Frequently Asked Questions
Here are a few concerns that buyers have when considering an artwork purchase:
How is the artwork shipped?
Framed original oil paintings are shipped by FedEx Ground and are insured. Paintings are wrapped in bubble wrap, padded around edges and packed in sturdy cardboard containers.
Unframed original oil paintings on stretched linen or canvas are shipped by FedEx Ground and are insured. Paintings are wrapped in bubble wrap, padded around edges and packed in sturdy cardboard containers.
Smaller (5x7, 6x8, 8x10, 9x12) unframed oil paintings on canvas or linen board are shipped by USPS Priority mail and are insured. Paintings are wrapped in wax paper, bubble wrap, and shipped in a cardboard mailer.
Will it come framed? Do I get to choose the frame?
 Available original paintings on my website include framing in the price, except for Little Sky 5x7 miniatures. Frames include wood tones, black or gold. If you prefer to purchase the piece unframed, contact me to request the unframed price.
How soon will I receive it?
Artwork usually arrives two-four days after shipping date. If you require faster shipping, please request FedEx Air or next day delivery which will incur additional fees.
What are the shipping costs?
Packing and shipping costs are estimated at 15% of retail price. For larger orders you may call or email 303-469-2072 or Ruth@SollerOriginals.com the day after shipping to learn the exact costs.
Is the work insured? What do I do in case of damage?
Work is insured during shipping. In case of damage, contact me immediately and I will work with you to resolve the issue.
Do you have a guarantee or return policy?
My work is guaranteed and may be returned for a refund or an exchange within seven days of delivery, if it is in the same condition as when it was shipped.  I will work with you to resolve your issue. Commissioned artwork requires a signed commission agreement and a deposit and may not be returned.
Certificate of Authenticity usually applies only to limited edition reproductions. At this time I am not offering limited edition reproductions. Currently I am offering print-on-demand reproductions here: http://ruthsoller.artistwebsites.com
How is it maintained or cleaned?
Original oil paintings should be hung out of direct sunlight and in areas which do not have extreme temperature variations or extreme humidity. My original oil paintings are protected with one coat of GamVar picture varnish. The only cleaning required should be a light dusting with a clean and soft brush once or twice a year.