Western Landscapes, Architecture and Portraits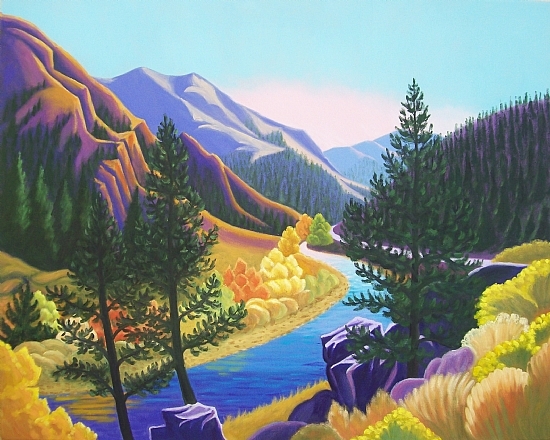 Cache de Poudre by Broomfield artist Ruth Soller wins top placement at Exempla Good Samaritan Comprehensive Cancer Center. Kathleen Lanzoni of the Executive Art Steering Committee told Soller, "We are very excited to have your beautiful painting and it will be hanging at the entry near the check in desk in the facility. It was decided that your painting would have the premier location because it is a welcoming piece and sets the right tone for the Cancer Center."
Cache de Poudre by Broomfield artist Ruth Soller won an Award of Excellence in Manhattan Arts International "Celebrate the Healing Power of Art" competition. A distinguished panel of jurors included:
· Jill Conner, Art Critic/Writer, Curator, Founder of AS | ARTISTS STUDIOS, New York, NY
· Barbara Markoff, Art Consultant, owner of Artrageous!, Author
· Renée Phillips, Author, Founder/Director, Manhattan Arts International
Renee Phillips said, "We received extraordinary images in a range of mediums by artists from around the United States as well as from Canada, and as far away as Romania, Finland, India, UK, France, Turkey, Israel, New Zealand and Sweden. It was extremely challenging to select the winners because the entries are outstanding."
Ruth Soller is a Denver oil painter of western landscapes, architecture and portraits. Ruth Soller helps clients by creating original oil paintings for their homes or offices.
* Ruth Soller offers for sale a complete inventory of Western landscapes, Southwest scenes, Italy scenes, historic architecture, nostalgic farm scenes, florals, and holiday and religious images. Shop for the perfect gift for nature lovers.
* Enjoy my artwork by clicking on Paintings and then selecting one of the Portfolios. Click on the image for a larger view. Click the Buy Now button to purchase a painting.
* Ruth Soller paints commissioned oil portraits of men, women, teens, children, pets, homes or businesses. Commission Price List is on my Bio page. Contact me to discuss details of your desired project.
* Sign up for my free monthly e-newsletter updates of new works and show schedules on my Newsletter page.
* Visit my Blog page to learn about my inspiration and process of painting an oil portrait or western landscape.
All images © Ruth Soller. All rights reserved. Reproduction in any form is strictly prohibited without prior written permission from Ruth Soller. By browsing this website you are agreeing with the copyright terms above.
.