Western Landscapes, Architecture and Portraits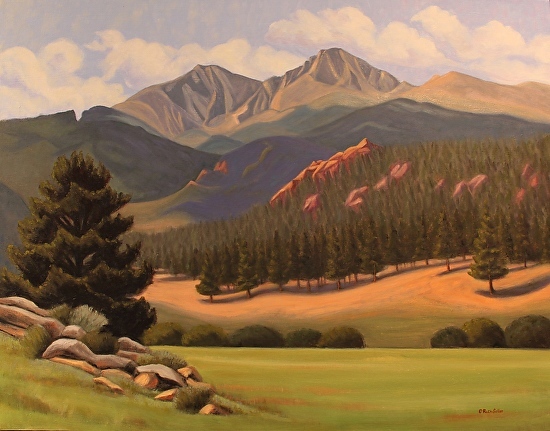 Longs Peak from McGregor Ranch, oil, 22x28
Ruth Soller is a Denver oil painter of western landscapes, architecture and portraits. Ruth Soller helps clients by creating original oil paintings for their homes or offices.
* Ruth Soller offers for sale a complete inventory of Western landscapes, Southwest scenes, Italy scenes, historic architecture, nostalgic farm scenes, florals, and holiday and religious images. Shop for the perfect gift for nature lovers.
* Enjoy my artwork by clicking on Paintings and then selecting one of the Portfolios. Click on the image for a larger view. Click the Buy Now button to purchase a painting.
* Ruth Soller paints commissioned oil portraits of men, women, teens, children, pets, homes or businesses. Commission Price List is on my Bio page. Contact me to discuss details of your desired project.
* Sign up for my free monthly e-newsletter updates of new works and show schedules on my Newsletter page.
* Visit my Blog page to learn about my inspiration and process of painting an oil portrait or western landscape.
All images and stories © Ruth Soller. All U.S. and International copyrights reserved by Ruth Soller. Reproduction, copying or storing images in any form is strictly prohibited without prior written permission from Ruth Soller. All Rights reserved. By browsing this website you are agreeing with the copyright terms above.
.